For 31 years, Ghanaians in Chicago have wowed the world with unparalleled Ghanaian traditional festival every last Saturday of July attracting thousands of participants of multiple ethnicity from all over the world. This year was going to be even better with the addition of a corporate dinner with invitations to dignitaries such as The Obamas and Dr. Aricana Chihombori Quao, corporate leaders, and a high-powered delegation from Ghana.
But COVID-19 had other plans
In April the Ghana National Council of Chicago officially cancelled the 32nd Annual Ghanafest with regret, and immediately set out to work on the next Ghanafest of 2021. But then the calls began to flood in. One caller said he "cannot imagine a last Saturday of July without Ghanafest" so the GNC "better do something." Another one added "of we can't be together physically, that doesn't mean we cannot be together virtually as is the new normal now."
And that's where the light bulb went off – A Virtual Ghanafest.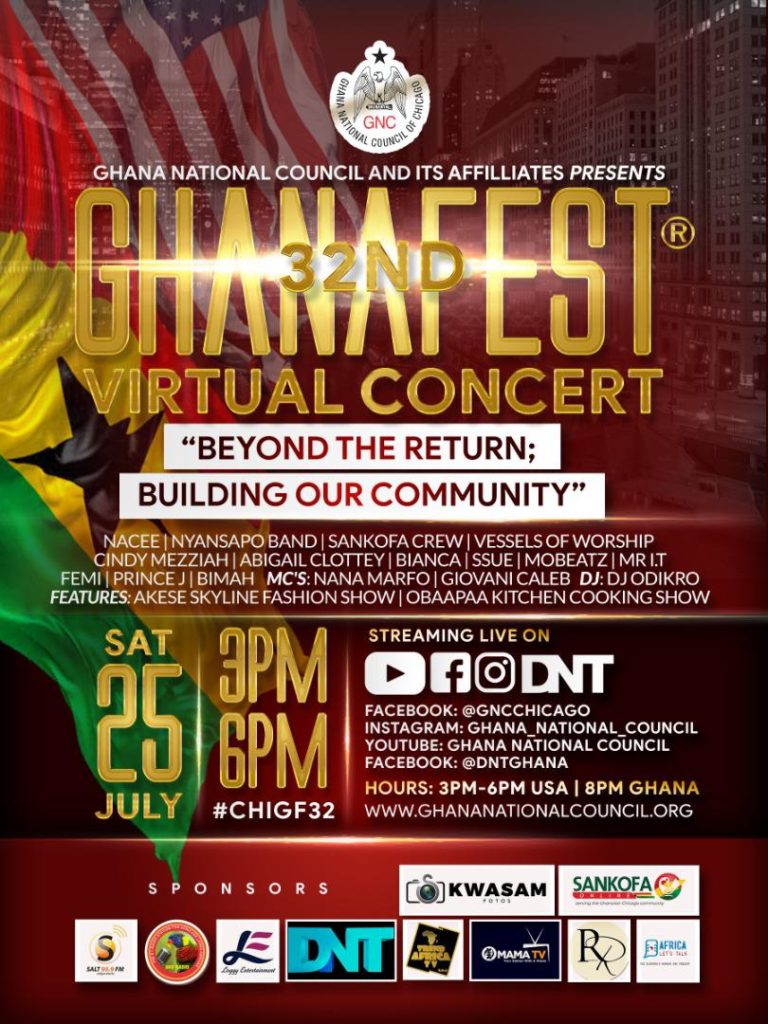 The GNC quickly met to consider the virtual Ghanafest and unanimously approved the idea. A call was made to DNT, a collaborative team was set up, and plans are thus far well in the advanced stages to ensure that the world famous Chicago Ghanafest will not become one of the victims of this global pandemic.
So this Saturday July 25 beginning at 1500hrs CST, 2000hrs Ghana time, the 32nd annual Chicago's Ghanafest will be streamed Live on Facebook. Exclusive Media Partner DNT will actually begin Live Pre-show 30 minutes earlier and pick it up when the main streaming come alive.
There will be an interactive component to DNT's coverage of the program. Viewers all around the globe can send in their comments via Facebook, Twitter, Instagram, all @dntghana, and via WhatsApp at +233272083688.